Pappas Restaurant information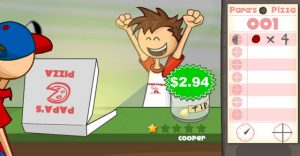 Description
:
Flipline guys are awesome, to create such an awesome game series like Pappas restaurant Games is really something, none of the series are cliché and all of them are very much enjoyable. Our tasty collection of Papa's games is filled with the most exciting management challenges in the world. All of our Papa's games provide you with specific goals. You may be saving up for a new car or ticket to the amusement park. The only way to achieve your dream is by serving customers and making money.
We have every one of Papa Louie's restaurants, bakeries, and food stands, including his taco shop, salad stall, and pizzeria. You can choose one of the current workers, or create your own character from scratch. Make the fast food expert look like yourself, or design a totally wild person. Whoever he or she is, they must be able to fill orders quickly!
First, you will take orders at the order station. Then, gather and prepare the correct ingredients at the grill, mix, or build station. Each restaurant has its own final steps. Serve customers in the neighborhood and at baseball matches!
Papa games as in: Papa's Pasteria; Papa's Cupcakeria, Papa's Hot Doggeria, Papa's Freezeria, Papa's Wingeria and so on. All these games can be played online directly, without signup or download required, but if you prefer to play games offline, you can also download any game file to your PC.
All games from the series share the same user interface so it is easy to learn how to play and adapt to a new game once you're familiar with any of them.