Papa's Burgeria information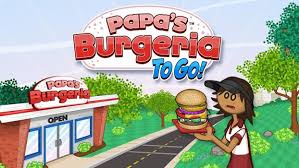 Description
:
If a Pizzeria serves pizzas, then naturally a Burgeria would serve burgers. However, Papa's Burgeria will make any delicious hamburger or cheeseburger to order, and it just so happens his customer's are as picky as they come.
You are the manager of a new Burger shop! You'll have to take orders, grill burgers, add toppings and serve the food to the waiting customers.  You need to multitask between each area of the restaurant, with new controls that feel just right in the palm of your hand: Head to the Order Station to keep an eye out for customers waiting in the lobby. Switch to the Grill Station to drag patties onto the grill and flip burgers to cook them evenly. Jump to the Build Station to carefully craft your sandwiches with toppings and sauces exactly how they ordered, and deliver the finished burger to earn points and tips!
Use your hard-earned tips to buy restaurant upgrades and hats to wear, and you can also decorate your lobby with furniture and posters from the Furniture Shop. You'll even earn a Pay Day each week, which you can spend on upgrading your Burgeria!